Blogs I Read Regularly
Friends & Family
Space & Rocketry
Politics, Guns, Etc.
Comics
Aerospace & Aircraft
Archives
Airplanes, Rocketry, Missiles, Spacecraft and things that go WHOOSH! in the night.
What's flying around my head at the current time.
Tuesday, March 30, 2004
Stop the Intruder...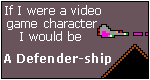 I am a Defender-ship.


I am fiercely protective of my friends and loved ones, and unforgiving of any who would hurt them. Speed and foresight are my strengths, at the cost of a little clumsiness. I'm most comfortable with a few friends, but sometimes particularly enjoy spending time in larger groups. What Video Game Character Are You?